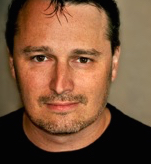 Producer
For more than twenty years Kirk has worn the mantle of leadership in corporate logistics, supply chain management, and the music business for numerous clients.
He is a gifted troubleshooter and problem solver, bringing energy and creative thinking to each collaborative effort.  Team members are inspired by his empathy, and his natural desire and ability to encourage them to reach their personal best. His experience in live concert production and high concept multimedia events continues to serve him well on the 'nuts and bolts' side of the film business.  Kirk is also a talented performer who has toured nationally, and performed live musically on both broadcast TV and radio. 
Encouraged by the lives of individuals who live abundant and full lives, Kirk's desire is to lift others through stories on film presented with excellence. One of those individuals was Bob Briner, the Emmy award winning producer whose books he discovered five years ago. From that time forward, he has sought to have his influence be inspiring.
Kirk became involved in 2009 with the Continuum Pictures  team while developing reality programing. Shortly thereafter he joined the team in 2010. Since that time he has participated in their productions and direction of the company. When the company moved to the Paramount lot, he took over the management of post production and distribution deliverables. In December 2011 he became the head of Distribution for Continuum Pictures.